MESSAGE FROM THE CHAIRMAN
I'm pleased to report that this year, following a long and rigorous process of examining all the available data, conducting large scale geophysical surveys, and creating sophisticated geological models of the Peake and Dennison domain, the Copper Search team is now in the middle of a major drilling program.
The goal is simple – discover the next large-scale Copper deposit in the Peake and Denison Domain of the globally renowned Gawler Craton region of South Australia.
The Gawler Craton is well known for world-class deposits like Olympic Dam, Prominent Hill and Carrapeteena. It has long been a focus of majors and explorers alike. However, on its northern edge, the Peake and Dennison domain has, until recently, been largely overlooked. This was primarily due to the perception that the geological age of its rocks was less prospective. However, Geoscience Australia's work over the past few decades has revealed that these rocks bear significant geological similarities to the well mineralised Mt Isa region.
This new geological understanding has opened up a significant opportunity.
The Copper Search team has identified numerous high-quality IOCG (iron-oxide-coppergold) targets with this new geological lens. Our team has ranked and confirmed each of these targets, with special emphasis on assessing their economic scale potential. Encouragingly when the best targets have been put to the ultimate test – the drill bit – the early results from this new exploration strategy have been encouraging. The first drill hole of the current program, at Target AC23, intersected multiple narrow intervals of typical IOCG mineralisation.
As we transition to a carbon-neutral economy, I believe that our goal of making a new and significant discovery that will help meet the world's seemingly insatiable demand for copper – an essential component in the production of electric vehicles, wind turbines, and other electronics – will not only yield benefits for Copper Search shareholders but also for our world as a whole.
I would like to thank my fellow directors, our CEO, Duncan Chessell and our entire team for the significant work program delivered over the past year and look forward to success in our current drilling campaign.
Chris Sutherland
Chairman, Copper Search Ltd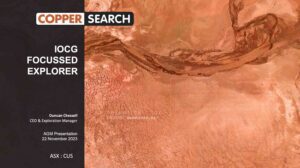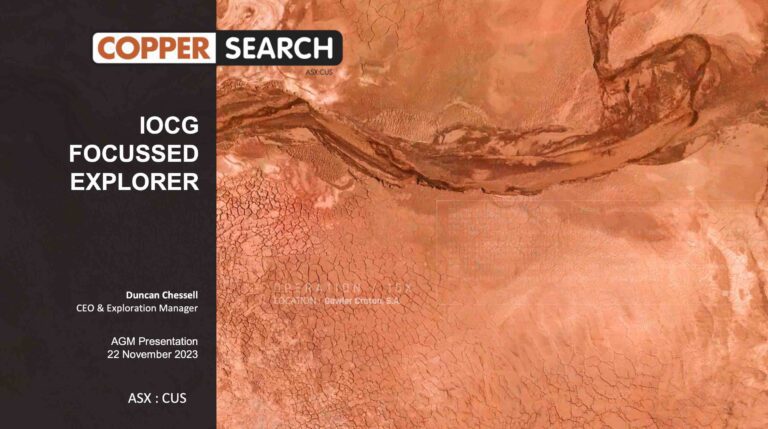 Copper Search Ltd (ASX: CUS) is pleased to provide investors with the opportunity to watch an Investor Presentation from CEO Duncan Chessell. The presentation covers the ongoing drilling plans for the high-priority IOCG targets at the Peake Project.
Read More